Despite having worked in the medical field for 15 years, I first learned about ME/CFS during an education lecture Dr. Bateman gave at the University of Utah Health where I was a health educator. During this presentation, I started to see the puzzle pieces of my sister's mysterious illness coming into view. She was once a competitive powerlifter who was full of life and spunk. After a lifting accident, followed by a minor car accident and sealed with an EBV infection, she was never the same.
Through a series of fortuitous events, I joined Bateman Horne Center to direct the medical education program in 2019. Since embarking on what feels like my life's calling, I have worked to identify an area of education that would create the biggest impact for patients and the medical providers serving them.
To find my answer, I stepped back to reflect on my sister's journey with ME/CFS, FM, and POTS. I realized she was constantly in a push-crash cycle, never fully understanding the
impact of post-exertional malaise (PEM). This kept her in a perpetual injury cycle which made her increasingly more ill and less functional. As a further insult, her providers didn't understand what she was going through, causing her to doubt her experience.
These same scenarios are described by many who battle ME/CFS, FM, and Long COVID. When medical providers aren't well versed in post-viral illnesses, the burden of disease falls on the patient and their support network. Seeing this trend, coupled with the overwhelming number of emerging Long Haulers, I felt an urgency to create an educational tool that increased patient and provider understanding of PEM, and offered guidance in everyday living with ME/CFS.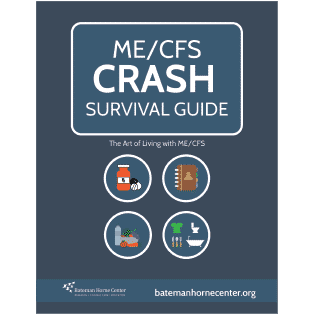 This is where the inception of the ME/CFS Crash Survival Guidebook began. I surrounded myself with a passionate multidisciplinary team that has both professional and personal knowledge about ME/CFS. The team consisted of a physical therapist, occupational therapist, skilled nurse, caregiver/corporate leader, licensed clinical social worker, advanced practice clinician, and an industry director.
We surmised that if patients can understand the physiologic drivers of PEM, and ways to avoid it, then they can gain some control back from their disease.
As a result, this guidebook contains information on how to meet your critical needs during a crash and provides adaptive ways to conserve energy in everyday living with ME/CFS. While this asset addresses ME/CFS, the content and concepts can be applied to other debilitating chronic illnesses such as FM, Long COVID, and orthostatic intolerance (OI).
It is our collective hope that you ultimately have more good days than bad.
Sincerely,
Tahlia Ruschioni, Education Director