BHC drives innovative and emerging research pathways to define core signs, symptoms, and decrements in specific functioning. On this page, BHC explains biomarkers, elements of clinical research, and engagements in research projects.
What are biomarkers and how is BHC contributing to their discovery?
A biomarker is something measurable that is indicative of a biological process.  Biomarkers measure normal, pharmacologic and disease processes. There are many types of biomarkers even for one disease that can be diagnostic, prognostic, predictive and pharmacodynamic. In ME/CFS and FM, we need all these types of biomarkers especially for disease management and to entice drug development. 
BHC is uniquely positioned to drive biomarker discovery.  Why?  Because we are expert at diagnosing ME/CFS and FM, and we make it easy and engaging for our patients to participate in clinical research.  We share high-quality biological samples and rich clinical information to increase the likelihood that biomarkers are discovered and replicated.
To date, we have provided samples together with rich phenotype information to:
Cytokines as Possible Biomarkers
Michael Houghton & Amir Landi. Houghton is the renowned virologist that co-discovered Hepatitis C virus and works with Landi to identify biomarkers for ME/CFS.  We provided this University of Alberta team with blood samples to see if they could validate the different chemokine and cytokine levels identified in ME/CFS patients compared to healthy controls. 
Metabolomics as Possible Biomarkers
Yosky Kataoka & Yasuyoshi Watanabe.  Our colleagues at Japan's renowned research institution, RIKEN, have made some of the earliest and most important discoveries related to immune and metabolic abnormalities in ME/CFS.  We used special tubes to collect blood samples so the RIKEN team could perform a comprehensive metabolomic analysis using state of the art time-of-flight mass spectroscopy.
Fereshteh Kenari Jahaniani & Laurel Crosby.  These Stanford investigators are working with Ron Davis on ME/CFS biomarker discovery.  The team is collecting blood samples from different centers and having metabolomic testing done by academic and commercial labs to determine if results are comparable.  We provided Stanford with blood samples to include in their collection.  This type of comparison is essential for ensuring that metabolomic biomarker(s) can be replicated for ME/CFS.
Immune Biomarkers
Patrick Daugherty.  Daugherty is the founder of the immune intelligence company, Serimmune.  We provided Serimmune with several hundred blood samples to test using their Serum Epitope Repertoire Analysis (SERA) technology platform.  This approach will reveal the antibody profiles that could lead to biomarkers and unique immune responses in ME/CFS.
Derya Unutmaz.  The Unutmaz team at The Jackson Laboratory investigates the biology of the immune system and hypothesizes that immune perturbations of specific blood cells contribute to pathogenesis of ME/CFS.  We provided Unutmaz with over 300 blood samples so they could generate immune signatures that could be used as predictive biomarkers.
Epigenetic Biomarkers
Patrick McGowan.  McGowan and his team at the University of Toronto were the first to study epigenetics – the effects that influence the way genes work without DNA sequence changes – to ME/CFS.  We provided McGowan with blood samples and his team was able to integrate the epigenetic results with the clinical information to identify subtypes.  
What is clinical research and what is being done at BHC?
Clinical research is when people – sick and healthy – participate in studies to advance medical knowledge and practice. Clinical research can be observational (watch and learn over time) or interventional (testing a drug or procedure).
BHC is testing ways to objectively measure the ME/CFS diagnostic criteria recommended by the Institute of Medicine.  We will share these tools and technologies with doctors so that people are diagnosed earlier and managed effectively.  Here's what we are doing:
For years Dr Bateman has asked her patients how many hours they spend with their feet on the floor – this could be standing, walking, or sitting upright in a chair.  She observed that more severely ill patients had fewer upright hours and more orthostatic intolerance.
We have partnered with the University of Utah to use machine learning and wearables to determine posture and hours upright.  When this wearable is worn by the patient, it will give the doctor information about the patients disease severity and can also be used in clinical trials to measure how effective an intervention is at improving physical function.
The 10-Minute NASA Lean Test
Over 35 years ago, NASA measures cardiovascular deconditioning in astronauts by having them lean their shoulders against the wall with their feet about 6 inches from the wall.  Leaning lets the muscles rest and tests how well the heart can pump blood above the belly button and up to the brain.  It turns out this test for astronauts can test for orthostatic intolerance in patients with ME/CFS.
 Every patient and research participant at BHC gets the 10-minute NASA Lean Test.  We've determined the things that people do that alter the test results (like wearing compression socks!) and have used our observations to standardize the test.  Now the 10-minute NASA Lean Test is being used at other clinical sites to replicate our observations.  A patients' results from the 10-minute NASA Lean Test can also be used to guide treatment for orthostatic intolerance. We are analyzing the thousands of data points generated from this test to refine it and use it for diagnosis.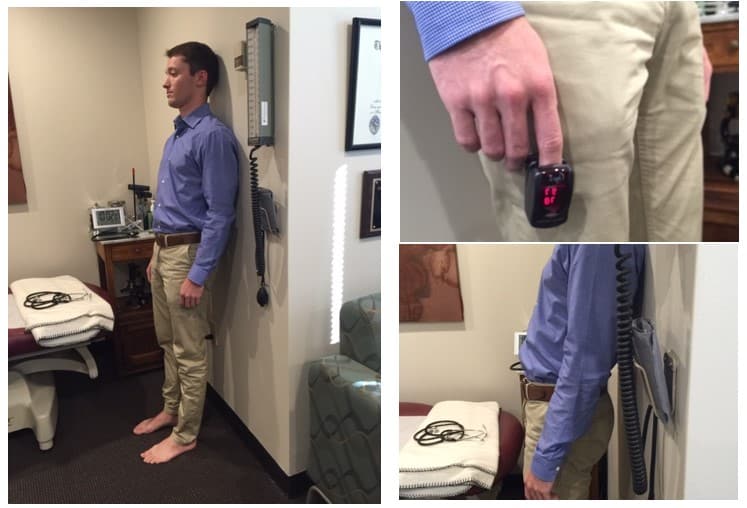 Vital signs are measurements of the body's basic functions – temperature, pulse, respiration, and blood pressure.  Wait a minute. What about the brain?! We understand that brain fog is one of the most troublesome symptoms to our patients.  Every BHC patient and research participant plays a short series of brain games to test their brain vital signs.
We are using the mobile brain health app to test reaction time and attention – two areas controlled by the brain that are affected in patients.  This app helps us screen and objectively measure cognitive impairment – one of the IOM diagnostic criteria – and we are using brain vitals to monitor and track various interventions.
Sleep is essential to recovery and rejuvenation of every system in the body – immune, nervous, muscular, skeletal. During sleep the body builds up and replenishes the molecules essential for daily function.  The sleep of ME/CFS does not provide the restoration and the regeneration that is required for health.  But the causes of unrefreshing sleep have been evasive.
Sleep studies, also called polysomnography, have failed to decipher what is causing the unrefreshing sleep of ME/CFS. We think the reason for this is because sleep studies are short (2-3 days) and occur in a sleep lab (not your comfy bed).  We are conducting clinical research on unrefreshing sleep using wearables that track all sleep stages and can gather data over weeks and months at a time.  This approach gives us the opportunity for precision medicine on an individual as well as using these devices to objectively measures changes in sleep in clinical trials. 
The following publications are a result of BHC led and/or partnered research findings
Accurate and objective determination for ME/CFS disease severity with a wearable sensor
Background:  Approximately 2.5 million people in the U.S. suffer from myalgic encephalomyelitis/chronic fatigue syndrome (ME/CFS). This disease negatively impacts patients' ability to function, often resulting in difficulty maintaining employment, sustaining financial independence, engaging socially with others, and in particularly severe cases, consistently and adequately performing activities of daily living. The focus of this research was to develop a sensor-based method to measure upright activity defined as time with feet on the floor and referred to as UpTime, as an indicator of ME/CFS disease severity.
View the full publication in the Journal of Translational Medicine.
Hemodynamics during the 10-minute NASA Lean Test: Evidence of circulatory decompensation in a subset of ME/CFS patients
Background:  Lightheadedness, fatigue, weakness, heart palpitations, cognitive dysfunction, muscle pain, and exercise intolerance are some of the symptoms of orthostatic intolerance (OI). There is substantial comorbidity of OI in ME/CFS (Myalgic Encephalomyelitis/Chronic Fatigue Syndrome). The 10-minute NASA Lean Test (NLT) is a simple, point-of-care method that can aid ME/CFS diagnosis and guide management and treatment of OI. The objective of this study was to understand the hemodynamic changes that occur in ME/CFS patients during the 10-minute NLT.
View the full publication in the Journal of Translational Medicine.
Clinically accessible tools for documenting the impact of orthostatic intolerance on symptoms and function in ME/CFS
Background: Clinical observations have indicated that hours of upright activity (HUA) reported by Myalgic Encephalomyelitis/Chronic Fatigue Syndrome (ME/CFS) patients correlated with orthostatic symptoms and impaired physical function. This study examined the relationship between HUA and orthostatic intolerance (OI).
View the full publication in Work.
Contacting us does not mean that you are obligated or eligible to participate.
Exagen-Better Study (20-FMS1-BETTER)
Biomarker evaluation for the differential diagnosis and monitoring of fibromyalgia compared to autoimmune rheumatic diseases, other pain syndromes, and normal subjects.
This is an academic study that aims to identify and validate blood-based biomarkers for the differential diagnosis of fibromyalgia syndrome (FMS), other chronic pain syndromes, and autoimmune rheumatic diseases. Study participation will last one-year, and there will be a total of 4 visits to our center over a one-year period. Eligible participants (men and women aged 18 through 65) will be compensated $50 for each visit.
If you are interested in learning more about this study, please contact us by:
Emailing: [email protected] or call (801) 532-8311.
The Center for Solutions for ME/CFS (CfS for ME/CFS) 
BHC is a site for the Clinical Project of this NIH-funded Columbia University project and we will study the clinical utility of 10-Minute NASA Lean Test.  This project will enroll 50 patients diagnosed with ME/CFS and 50 healthy volunteers between the ages of 18 and 65. Each participant will come to the Bateman Horne Center for a 2-hour visit that will include cognitive testing, the 10-Minute NASA Lean test and blood samples before and after the tests.
Participation is voluntary and information remains confidential. This study includes $100 in compensation.
If you are interested in learning more about this study, please contact us by:
Emailing: [email protected] or call (801) 532-8311
A Phase 3 Study to Evaluate the Efficacy and Safety of TNX-102 SL in Patients with Fibromyalgia (Tonix-RALLY)
The Bateman Horne Center is working with Tonix Pharmaceuticals to test an oral medication to determine if it reduces pain in adult patients with fibromyalgia (FM); the medication is called cyclobenzaprine (Flexeril). There will be six (6) visits to the Bateman Horne Center over a 14-week period. There is an option of completing visits 3, 4, 5, and 6 remotely. Eligible participants will be compensated as follows:
Visit 1: $80
Visit 2: $60
Visit 3: $60
Visit 4: $60
Visit 5: $60
Visit 6: $80
If you are interested in learning more about this study, please contact us by:
Emailing: [email protected] or call (801) 532-8311
A Multicenter, Randomized, Double-Blind, Placebo-Controlled, Proof of Concept Study of the Efficacy and Safety of Fremanezumab for Treatment of Patients with Fibromyalgia (Teva Study).
This is a clinical trial for men and women aged 18 through 75 with fibromyalgia. The purpose of this study is to determine how effective the investigational study drug fremanezumab (Ajovy) is at reducing the pain and associated symptoms in patients who have fibromyalgia. About 240 people in the United States will participate in this study. Participants have a one in three chance of receiving the placebo.
Study participation will last about 21 weeks and includes seven (7) visits to the Bateman Horne Center. Eligible participants will be compensated $75 for each visit, totaling $525 for completion.
If you are interested in learning more about this study, please contact us by:
Emailing: [email protected] or call (801) 532-8311
We Want You! Healthy Volunteers to Participate in Research 
Healthy volunteers are needed to participate in our NIH-funded research for Myalgic Encephalomyelitis/chronic fatigue syndrome (ME/CFS). We have set up a registry that allows you to securely provide information that helps us determine if you are eligible to participate.
If after reviewing your information we determine that you are in good general health and between the 18 and 65 years of age, we will contact you at the phone or email you provide. Your participation is voluntary, and your information will remain confidential.
If you are interested, you can complete the information by clicking here: https://j.mp/3jGcU3v.
BHC Clinical Core for JAX: A 4-year NIH-funded Study to Identify Biomarkers 
This study aims to identify the fundamental mechanisms by which a tri- component network of systems—the microbiome, metabolism and the immune system—interact to cause or exacerbate disease. BHC serves as the Clinical Core and is responsible for recruiting, clinically evaluating and collecting biological samples from ME/CFS and healthy volunteer research participants.
Research for Myalgic Encephalomyelitis/Chronic Fatigue Syndrome Disease: Understanding the Patient Experience of Fatigue 
The pharmaceutical industry has been reluctant to invest in developing therapies for ME/CFS, in part because there are no measures of treatment outcome that they can rely on to provide evidence to the FDA. Fatigue is included in all commonly used case definitions for ME/CFS. A validated patient-reported outcome measure (PROM) for ME/CFS fatigue would provide the data required to document the treatment benefit of therapies for this disease.vi  The objective of this study is to demonstrate that the PROMIS Fatigue measure is a valid and reliable outcome for use in clinical trials of therapy for ME/CFS. 
A Study to Evaluate the Efficacy and Safety of TXN-102 SL in Patients with Fibromyalgia (RELIEF) 
Defining Posture Contributors to Post-Exertional Malaise
Multisite Clinical Assessment of CFS: A CDC-funded study to understand ME/CFS
InTiME: Pilot Phase 1/2 Clinical Trial To Investigate CT38 In the Treatment of ME/CFS
Restore: A clinical trial of droxidopa for  neurogenic orthostatic hypotension
Juvenile Fibromyalgia Study (Ages 13-17): Duloxetine versus placebo
Fibromyalgia Study (Ages 18-65): DS-5565 compared to pregabalin and placebo
Fibromyalgia Study Low-dose cyclobenzaprine tablets (TNX-102 Phase III)
Fibromyalgia: Neuropoint Device delivering RINCE treatment
Chronic Fatigue Syndrome: Nutraceuticals & Low-dose methylphenidate
Fibromyalgia: IMC-1 combination versus placebo
Juvenile Fibromyalgia: Lyrica/pregabalin versus placebo
Chronic Fatigue Syndrome: Poly I: Poly C12U IV drug (Ampligen) open label study
Fibromyalgia: Low-dose sublingual cyclobenzaprine tablets (Phase II)